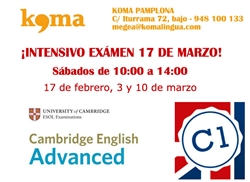 Intensive course in Pamplona for advanced exam on 17 March!
18, November 2018 | 0
Koma Pamplona offers an intensive preparatory course for the Advanced exam (C1), to take place on 17 March, 2018.
The course will run from 3 February – 10 March, every Saturday from 10:00 to 14:00.
The total cost of the 24 hours will be € 192.
Do not hesitate and sign up to get your Advanced certificate!
Call us on +34 948 100 133 or email us at megea@komalingua.com.
Any ideas? Shall we work together?
Please do not hesitate to contact us if you have a project or an idea that you'd like to launch. We would be more than happy to work with you.