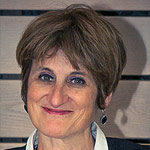 Viviana Dal Pont
17, October 2017 | 0
Managing Director of 2B1 and the Koma group. I was born to Italian parents in the beautiful city of Lucerne (Switzerland) where I grew up. I have always had two passions: languages ​​and people. That is why I have trained and continue to train in these fields. I am an expert in HR and business management and psychology (transactional analysis). In order to teach and be a teacher, I studied first at the ECAP in Switzerland and then at the Goethe Institut. Today I also have the title of TELC examiner. I speak German, Italian, Spanish, English and French and I have lived in the Basque Country since 1999. I am a founder of the KOMA Group, which today has 5 companies and more than 240 employees of 20 different nationalities. My role in the company allows me, indeed obliges me, to travel a lot, something I do joyfully as it allows me to maintain contact with my different roots. The idea of ​​2B1 International Consulting was born during a trip to Berlin with colleagues: to help people find new opportunities and to integrate in other countries. In my free time, which is not much, I try to get to know the world, cultures and gastronomy. Music and a good book also relax me and make me feel good, just like a walk with my dog does.
Any ideas? Shall we work together?
Please do not hesitate to contact us if you have a project or an idea that you'd like to launch. We would be more than happy to work with you.